Biosafety and Infectious Disease Training Initiative Poster Wins Second Place at National Meeting
November 16, 2016 —Written by Holly Cieslikowski
Aurora Le, MPH, CPH, academic specialist at Indiana University School of Public Health-Bloomington, was recently recognized by the American Public Health Association (APHA) for her poster entitled, "Levels of Experience and Perceptions of Preparedness to Work with Highly Infectious Remains in the U.S. Death Care Sector." Ms. Le's presentation took second place in the in the Occupational Health and Safety Section at the organization's 144th annual meeting and expo.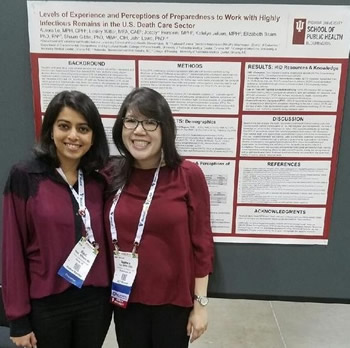 The winning presentation featured Ms. Le's research for the Biosafety and Infectious Disease Training Initiative (BIDTI), a training program for workers whose jobs may expose them to Ebola virus disease and other serious infectious diseases. Led by Shawn Gibbs, PhD, MBA, CIHA, at Indiana University School of Public Health-Bloomington and John Lowe, PhD, at the University of Nebraska Medical Center, BIDTI includes partnerships with The University of Texas Health Science Center at Houston, Harvard T.H. Chan School of Public Health, and Dillard University. The program is funded by the National Institute of Environmental Health Sciences (award UH4 ES027055-01).
As BIDTI's project coordinator and education specialist, Ms. Le's primary research interests include highly infectious diseases and environmental health, with a focus on training and education. Her secondary research interests include Community-Oriented Primary Care (COPC), population health, social justice, and addressing health disparities. Ms. Le holds a master's degree from University of Nebraska Medical Center and is certified in public health by the National Board of Public Health Examiners.
Founded in 1872, APHA is an organization of professionals representing all fields of public health. APHA develops and advocates public health policies and programs, provides continuing education, and publishes the American Journal of Public Health. Its annual meeting draws over 12,000 professionals from across the United States.